KOEKIE AROUND THE GLOBE
Spreading Autism Awareness
PROJECT INDONESIË 2017
Autisme Centrum Kuta - Bali
In september 2017 is KOEKIE naar Bali geweest, waar Jonneke bij een autisme centrum en tijdens een huisbezoek tips en adviezen heeft gegeven over de begeleiding van de kinderen en de inrichting van de ruimtes. In het centrum worden kinderen van alle leeftijden begeleid. In Indonesië is er nog weinig kennis over autisme en doordat ervan te weinig kennis en geld en middelen zijn worden mensen met een psychiatrische stoornis soms zelfs opgesloten en vastgebonden. Families denken soms dat een kind bezeten is door de duivel.
"Many people still adhere to traditional beliefs as in people with autism are seen to be cursed or possessed, some also believe that autism is a contagious disease, karma from god, or that their deceased ancestors are angry with them, which results in many children and adults being kept far away from regular society." Ana – Eigenaresse van het centrum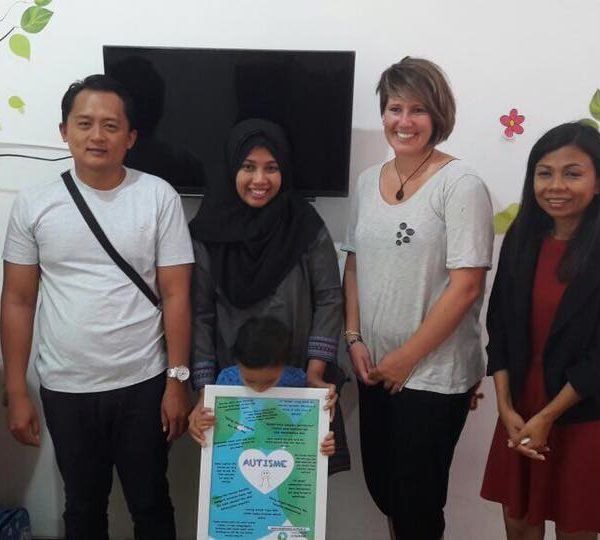 A Full Heart Center is a therapy centre for children with special needs in Bali. The Foundation was organized in 2015 by Ana Lestari under licensed Yayasan Lentera Kehidupan Anak Bangsa. It is dedicated to assist local children, to help them lead meaningful and independent lives in society.
The center provides comprehensive educational and behavioral services to support young children with autism and other special needs. Our services include sensory integration therapy, neurosensory therapy, parent consultation, educational one and classical class.
The center has also held educational seminars to raise Autism Awareness in several school and parent communities.
A Future target of the center is to reach out to local families where there is insufficient income to access services for children with special needs.
DONEER AAN KOEKIE AROUND THE GLOBE OM PROJECTEN TE STEUNEN 
BLIJF VIA EEN BESLOTEN GROEP VOOR DONATEURS OP DE HOOGTE VAN DE PROJECTEN VIA BLOGS, FOTO'S EN VIDEO'S
KOEKIE AROUND THE GLOBE